Top Ten Reasons Why to Buy
Best Selection


We have dozens and dozens of used cars, and not just used Subarus! In addition, Twin City Subaru is the largest seller of Certified Pre-Owned Subaru in Vermont because we believe in what the certification process stands for: a worry-free used car purchase.

Excellent Warranties


In addition to our 3/3 warranty, Twin City Subaru offer a wide variety of options to extend warranties and add additional coverage.

Live Market-Based Pricing


Twin City Subaru has state-of-the-art software so we can compare every car advertised on the internet in seconds. We then make sure that we offer the best price possible so you don't have to do days and days of research!

Outstanding Customer Service


Twin City Subaru has received Subaru's prestigious Stellar Care Award certification every year the award has been presented.

Support for Local Charities and Community


Twin City Subaru is proud to give back to the community; chances are we support a cause in common with you. See our Driving to Make a Difference page for more information about past support for charities and who we're helping right now!

Good People


You may think you don't care about this, until you need something, but when you do you will appreciate the help of the awesome people at Twin City Subaru. Ranked #1 in customer satisfaction in 2013 and practicing the tradition of excellent customer service for over 30 years. Our staff will always try to do the right thing for you. Unfortunately not every business can say that!

Accessibility and Flexibility


Twin City Subaru is easy to get to, easy to do business with, and will always try to accommodate your schedule!

Perks


Once you're a part of the family, we'll take care of you like family. Free Popcorn! Free Coffee! Free beverages! Free shuttle! Free loaner cars! Free car washes!

Outstanding reviews


Check our customer satisfaction ratings for sales, parts, and service!

We stand behind what we sell


Our staff doesn't just sell used cars, they by them too! And so do their family, friends and loved ones.

What our Used Car Customers Have to Say:

"Working with Dan was an absolutely wonderful experience. This was my first experience with a dealership, and as a 26 year-old female with little knowledge of cars, I was dreading the experience. I was expecting an overbearing, pushy salesman who would push me into a quick purchase of an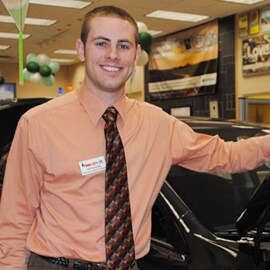 expensive vehicle. Dan was none of those things, and really respected what I was looking for.  I ended up purchasing a 2010 Subaru Impreza and am absolutely in love with it. I will be returning to Twin City Subaru, and I will absolutely be working with Dan."

"This dealership isn't pushy, it's just helpful and considerate. I visited a lot of dealerships
while shopping for cars this year and Twin City was the only one where I felt like I was talking  to someone who cared about me, not just 'the  sale.' Would recommend to anyone purchasing a car in Central Vermont to visit Jim at Twin City Subaru!"

"Joe Sweeney is just great to work with. He is a good listener. Even though we were just buying a used car, he treated us like we were buying the best car in the showroom. I highly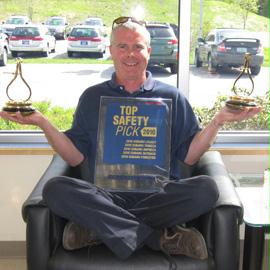 recommend Joe as a top notch guy who is honest, hard working and makes the whole process enjoyable."

"I recently traded my Subaru for a used Volkswagon Jetta at Twin City Subaru and the experience couldn't have been more painless. I felt I got an honest deal from an honest group of people (not the typical experience I've had at car dealerships)."

"The price for the vehicle was very competitive, the knowledge of our salesman was outstanding and the other staff talked to us like we'd been shopping their for years."
Read more Dealership Reviews >>