The 2021 Subaru Love Promise Community Commitment Award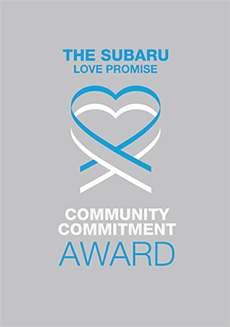 We've been nationally recognized for our dedication to our community and the Subaru Love Promise.
We're honored to receive the 2021 Subaru Love Promise Community Commitment Award. This award nationally recognizes Subaru retailers who are making the world a better place while demonstrating an outstanding commitment to supporting passions and causes in local communities. These efforts are focused in important areas such as the environment, community, health, education, and pets.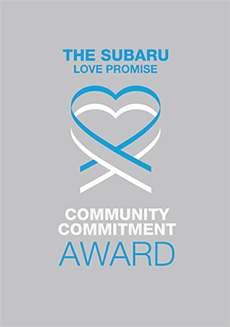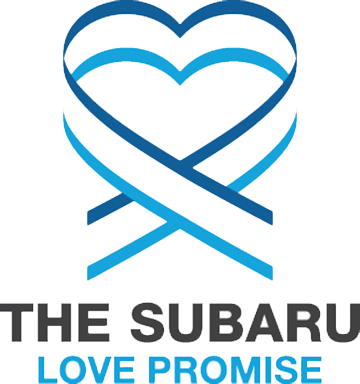 What is the Subaru Love Promise?
Subaru and our retailers believe in making the world a better place and the Subaru Love Promise is our vision of respecting all people. This is our commitment to show love and respect to our customers and to work to make a positive impact in the world.
How is Twin City Subaru dedicated locally to the Love Promise?
Our Love Promise can be seen in various partnerships with local charities and non-profits. We're grateful for the opportunity, not only to be a part of our community, but to serve it as well.
Love Promise Stories from Twin City Subaru
Subaru and Twin City Subaru believe in making a positive impact on the communities in which we live and work. We uphold that belief through our Love Promise Community Commitment. Every month, we select inspiring stories from customers and partners from around our area who strive to support our collective commitment and feature them here
A Valued Friend of the Vermont Foodbank - Mica S
Twin City Subaru has been a true blue friend for many years, and we are honored to be part of their Share the Love celebration. In addition to helping raise funds for the Vermont Foodbank this year, Twin City Subaru has also increased their involvement by volunteering at local food distribution events. Since 2013, STL has donated $231,150 to our neighbors in need! That is the equivalent of over 386,000 meals. We are facing a hunger crisis unlike anything we have seen in our lifetimes. To meet the increased need, the Vermont Foodbank has more than doubled its distribution since March. We couldn't possibly do it without the help of partners like Twin City Subaru.
---
Helping Our Local Veterans - Steve E
The Sons of The American Legion Barre Squadron 10 And Barre BPOE Elks Lodge 1535 want to give Twin City Subaru and it's employees a huge Thank You for contributing to and participating in our annual Granite City 5K Run/Walk For Veterans. Because of Twin City's participation over the last several years, we have been able to help Veterans who reside at The Veterans Place in Northfield Vermont with over $21000 to help their successful transition to stable and productive living. The Veterans' Place, Inc. (TVPI) is a community-based, non-profit, 22-bed, and substance-free transitional housing program located in Central Vermont, dedicated to reducing Vermont's homeless Veterans population. TVPI provides secure and sober housing, along with supportive services and programs, to homeless veterans for up to two years. It is obvious that Twin City Subaru and its employees truly care about the Community they live in!
---
Central Vermont Humane Society thanks Twin City! - Laurie G
Twin City Subaru has been an important partner with Central Vermont Humane Society for many years, enabling us to be there for people and pets in our community. Their support has meant even more in these difficult times. Since March, CVHS has lost over 30% of our income when we were forced to cancel programs due to the pandemic. But pets still needed CVHS, pandemic or no pandemic. Pets like Ricky, a tiny kitten found with his sister Raccoon, abandoned in an alley in a nearby town. Ricky and Raccoon were only about a month old and luckily CVHS was there to take care of them. Or pets like Simon, who came to us as a stray with multiple fresh bite wounds on his rear leg. We treated his wounds and removed many diseased and painful teeth. Once Simon healed and was finally pain free, he became a complete love-bug. Or Whittley, an adorable puppy we were able to rescue along with her 6 siblings from a shelter in the south. Pandemic rules forced most out-of-state transports of rescued animals to stop, causing serious overcrowding in many shelters who rely on transport to save lives. Our rescue partner was getting desperate. As soon as the restrictions were lifted, we scheduled a transport. And, the pandemic has put significant financial strain on people in our community. One family had to call us when they lost their job, then their home. They needed to find a safe place for their beloved cats. They thanked us for being so kind, and said it was both the worst, and the best thing, that happened to them during these difficult times. Calls like this have increased significantly this year. So many animals, so many people, need CVHS. We go the extra mile for each and every pet who comes into our care. Twin City Subaru goes the extra mile for CVHS, the animals, and our community. Their sponsorship of our Walk for Animals, their participation in Subaru Loves Pets, their donations to our events, and more, provides CVHS with crucial funding. In addition, Twin City staff are adopters, volunteers, and supporters. They make it possible to save pets like Ricky, Simon, and Whittley, they make it possible to help families faced with life challenges that impact their pets. We send huge thanks to everyone at Twin city Subaru for their compassionate, dedicated, and enthusiastic support!
---
Helping the Fight Against Cancer in Central VT - Cara G
For the past several years Twin City Subaru has been one of the Central Vermont Relay For Life's biggest supporters. This year we almost had to cancel our event due to COVID. At the last minute the event was rescheduled and reimagined as a drive through event at our local Thunder Road Racetrack. Woohoo! We were 'on track' to have are event.... well almost.... Even with these changes our event was in danger of being cancelled due to not having enough volunteers. Typically a lot of our event volunteer are either recovering patients or caretakers, however due to COVID volunteering was not an option for them this year. We simply did not have enough volunteers to make this ACS fundraising event happen. And that's where Twin City Subaru came to the rescue! Twin City Subaru's General Manager, Jose Oliver, was able to rally enough employees to come and volunteer at our event so that the show could go on! From setup to cleanup, registering attendees, decorating luminary bags and even having one of their technicians drive the lead lap in his personal racecar there was nothing that Twin City would not do to help make our event a success. Twin City Subaru came through big time for our event, the American Cancer Society and the fight against cancer. To date the Central Vermont Relay For Life has raised over $36,500 and we want to thank Twin City Subaru for being a big part in making that happen.
---
Meals on Wheels of Lamoille County - Meals on Wheels Of C
Twin City Subaru heard our call for help and came running without hesitation. They helped us pick out a car that would be able to make thousands of home meal deliveries to older Vermonters throughout Lamoille County each year. Our Subaru will hold up through the challenging Vermont winters and plow right through the snow for years to come. Desmond was an excellent salesperson coming directly to our kitchen to complete paperwork and deliver the car. We felt and continue to feel the love of Twin City Subaru! Thank you.
---
Walk For Children - Ed B
My name is Ed Bride and I am the Deputy Director of Prevent Child Abuse Vermont. I have a 2018 Outback ( our 3rd Subaru). There is a lot of room in the Outback. As I travel around Vermont for our WALKS FOR CHILDREN, I find I can carry just about everything we need in my Outback! Not only is it roomy, by it rides nice and has great gas mileage. Our WALKS this year raised over $66,000!!!! Thank you Twin City Subaru for being a sponsor of our WALKS FOR CHILDREN!
---
Central Vermont Humane loves Twin City! - Laurie G
At Central Vermont Humane Society, we go the extra mile for animals every day. We are so grateful that Dave, Cara and everyone at Twin City Subaru regularly go the extra mile for CVHS. Since 2016, they have been a Top Dog sponsor of our Walk for Animals, our biggest event of the year. In addition, their staff are so dedicated to our cause that they raise funds for our Walk on their own, resulting in Twin City Subaru being our largest local business partner overall. Beyond funding, Twin City Subaru and its partner stores regularly hold adoption events with us that are extremely successful, directly saving the lives of the animals at these events. Twin city Subaru is an enthusiastic partner and their support makes a significant impact for CVHS and our community, helping us save the lives of over 1000 animals a year.
---
Sharing the Love to Fight Hunger - Allison M
It is sometimes easy to forget how many people right here in Vermont are finding it difficult just to provide food for themselves and their families. According to feeding america.org,74,520 people in our state are struggling with hunger, and of them 18,760 are children. That equates to 1 in 8 Vermonters, with 1 in 6 being Vermont kids. Vermonters take pride in keeping alive a sense of community and Twin City Subaru is no exception to this local way of life. As part of their efforts to maintain a strong presence as a charitable organization throughout the year, they will be supporting the Vermont Foodbank for the 7th year in a row as part of the annual Subaru Share the Love Event! Starting on November 14th and continuing through January 2nd, Subaru of America Inc. and Twin City Subaru will donate up to $350 for every new Subaru sold. The end goal is to reach an even higher amount of money donated than in the previous 6 years they've taken part in this event! Below, you can see just how much has been raised each year since 2013: 2013/14: $17,250 2014/15: $35,639 2015/16: $25,188 ( plus additional donation of $,5,884) 2016/17: $33,139 2017/18: $43,148 2018/19: $33,361 Grand Total: $193,609 To put some of these numbers into perspective, a $350 donation from the purchase of a new Subaru would provide a family of 6 with 585 meals, feeding them for over 1.5 months! On a dealership level, it's clear to see from the photos of last year's event that the customer is driving off in their newcar knowing just how significant the impact of their purchase is to the local community. On a state level, there is also a significant boost given to the Vermont economy as the Vermont Foodbank continues to partner with local farmers and food hubs to purchase and distribute hundreds of thousands of pounds of fresh, local produce as part of their Vermonters Feeding Vermonters Program. The Foodbank's partnership with Twin City makes a huge difference in the lives of Vermonters facing hunger, including people like Lisa. When Lisa, a 52-year-old veteran living in Rutland, Vermont, had a stroke, she had to stop working while she focused on rehabilitation. Without a job, Lisa struggled to afford her basic needs, like a roof over her head and food on the table. "I had looked into resources in this area just in case I became homeless." When a VA worker referred Lisa to the Vermont Foodbank, everything changed. Thanks to supporters like Twin City Subaru, the Foodbank was there to help Lisa get signed up for 3SquaresVT, a program that provides her with money each month to purchase the food she needs. "It was a helpful bridge to keep me going and now I just went back to work part-time. I don't have a vehicle and can't drive right now due to the stroke. I am still developing my peripheral vision so it's hard for me to walk to a food shelf and carry back everything I need for a month. With the [3SquaresVT] card I can just get a few items when I need them at a grocery store and carry them home." Thanks to the Vermont Foodbank community -- including Twin City Subaru -- Lisa had a place to turn during a challenging time in her life. With your help, she can keep food on the table while she continues to recover from her stroke.
---
Meals on Wheels Waterbury, Vt NQID parade - Philip W
The Waterbury Area Senior Citizen Assoc attended the Not Quite Independence Day parade on June the 27th in Waterbury, Vt. We had 2 of our members riding and acknowledging the crowd of more than 3500 people. The Subaru of America Meals on Wheels 50th anniversary Outback was well received. The senior center handed out over 2500 cookies as an appreciation for all the support that the surrounding towns have given to better the lives of our senior citizens who live alone that we serve 5 days a week as part of the Meals of America home meal delivery system. We have a dedicated staff of volunteers who go beyond just delivering a meal, they also do little things for the seniors who are not able to do themselves. Like shovel a walkway, bring in the mail, remove or install A/C window unit, take the trash container to the curb and other things as asked. We serve six surrounding towns with 200 miles a day split up into 5 routes. The Subaru of America Outback so graciously donated helps us to meet our commitment to serve and promote our mission.
---
Mother's Day Brunch Volunteer giving a ride home - Karol S
On Mother's Day May 13, 2018 the Waterbury Area Senior Center held a Mother's Day Brunch in our community. The brunch was used as a fundraiser for the Waterbury Area Senior Center to raise money for our Meals on Wheels program.The Brunch was from 8:00am – 1:00pm. The menu included: French Toast Casserole, Pancakes, Spinach & Bacon Quiche, Chipped Beef & Gravy over biscuits, Home Fries, Bacon, Sausage, Muffins, Coffeecakes, Cinnamon Rolls, Blueberry & Raspberry Scones, Chocolate Croissants, Strawberry Croissants, Shrimp Cocktail, Butternut Squash Soup, Fresh Fruit, Yogurt Parfaits, Cookies, Cupcakes, Coffee, Tea and Juice. All proceeds benefit our Meals on Wheels and the Waterbury Area Senior Center.We served 100 people. One in particular lives locally and walked to the Center for Brunch. Sidnia has no children, but wanted to honor her own mother by coming to our Brunch. The weather was cool when she came arrived, but by noon time the sun was shining and the temperature had risen. She was tired, well fed, and so one of our regular Meals on Wheels volunteer drivers gave her a ride home.Sidnia was thrilled to be getting a ride home in brand new car. She was happy to have supported the Meals on Wheels program by having brunch today. Sidnia was once a recipient of Meals on Wheels many years ago. She now lives in a community home that serves meals daily, but loves to come to the Waterbury Area Senior Center once a week for lunch on the bus. Without the support of Subaru of America, we never would have been able to give Sidnia a ride in a brand new car. We hope that we are able to give more rides to Seniors around town on our Meal Routes to see their friends. We also hope to be able to occasionally pick up a Meals on Wheels client and bring them to our Center to have a Meal with old and new friends. They will be able to see where there meal is made and we can show them how Subaru of America supports the Waterbury Area Senior Center and the Meals they receive.
---
Thank you Subaru of America! - Karol S
Richard White one of our trusty volunteer drivers from the Waterbury Area Senior Center, prepares to start his 49.4 mile route from Waterbury to the towns of Moretown and Middlesex. He drives this route 5 days a week and stops to see 18 different clients. Richard spends the majority of his route driving dirt roads to reach our clients. Richard's route has the most dirt roads and serves the most rural areas. One of his first stops is up a very steep incline of dirt roads 1 mile from the main road that is paved. "With the use of the brand new Subaru, I am more confident I will make it to all my stops, the car works great on the dirt roads," says Richard White. Thank you Subaru of America for helping us reach more Meals on Wheels clients each day. Your gracious generosity is helping our volunteers reach some of the most vulnerable seniors living in our area. On average each month, Richard drives 528 miles to deliver meals. The donated 2018 Subaru Outback will enable him serve up to 15 more seniors and serve 300 more meals each month in a safe reliable car.
---