Subaru of America is to donate an estimated $17,000 to the Vermont Foodbank
, thanks to 70 owners who recently purchased new Subarus at Twin City Subaru.
The donation is the happy result of Subaru's 6th Annual
Share the Love event
, during which Subaru donates $250 to a charity of the customers' choice for each
new Subaru
sold or leased.
New Subaru owners from the 2013-2014 rendition had their pick of 5 national charities: the ASPCA, Teach for America, Meals on Wheels, Make-A-Wish, and National Parks, in addition to the dealer's unique local charity selection (Twin City chose the
Vermont Foodbank
).
"We are quite proud and grateful to our community for coming together and helping us donate to feed hungry children and families in Vermont. The original goal was to reach $12,000. We weren't convinced that every customer would choose the [Vermont] Foodbank as their charity option.
But the power of local prevailed and over 99% of customers chose to pledge their $250 donation from Subaru to the Foodbank! It's truly amazing how Vermonters stand together and help each other." Twin City Subaru Owner Dave Birmingham said in response to Share the Love's success.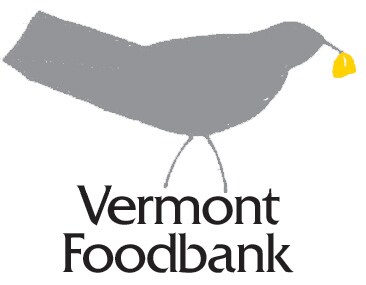 ---
The Vermont Foodbank can distribute a
whopping 51,000 local meals
with this donation, as the non-profit can turn $1 into 3 meals.
---
"This event is a great example of what sets Subaru apart as an automaker," added Twin City Subaru Manager Chris Davis. "
This donation comes entirely from Subaru
- the $250 gift per Subaru sold is not coming out of raised prices, end-of-year gimmicks, or from the customer's pocket.
Subaru simply recognizes that our owners are cause- and community-minded, and lets them literally 'Share the Love' with the charities they feel are most deserving of Subaru's donation(s).
Extra points for letting
dealerships choose a unique local charity option
for the first time this year. Everyone can feel good about supporting a non-profit that does amazing work right here in Vermont."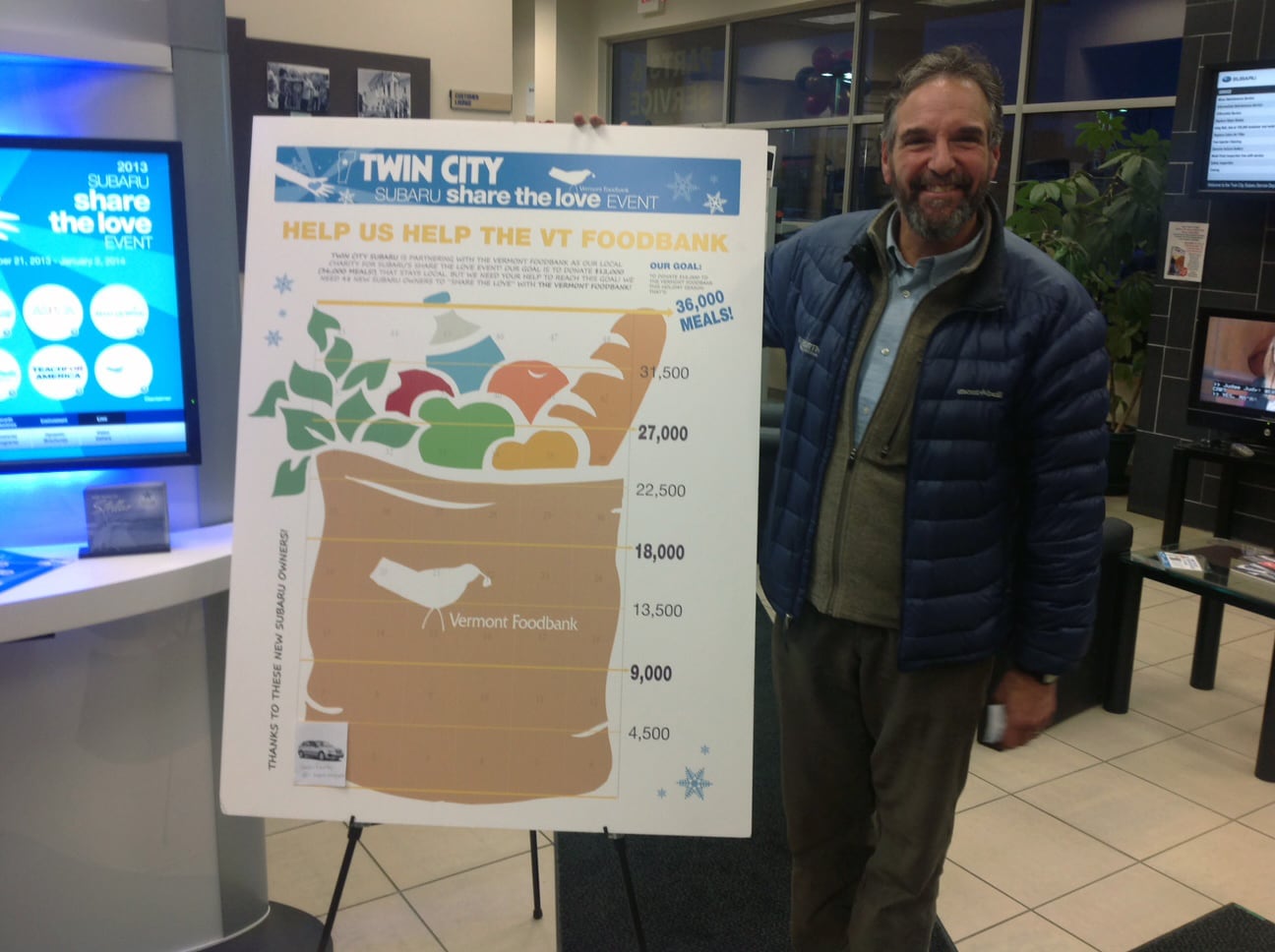 11/21/13 - Charles here was the 1st Customer to Buy a New Subaru During
Share the Love!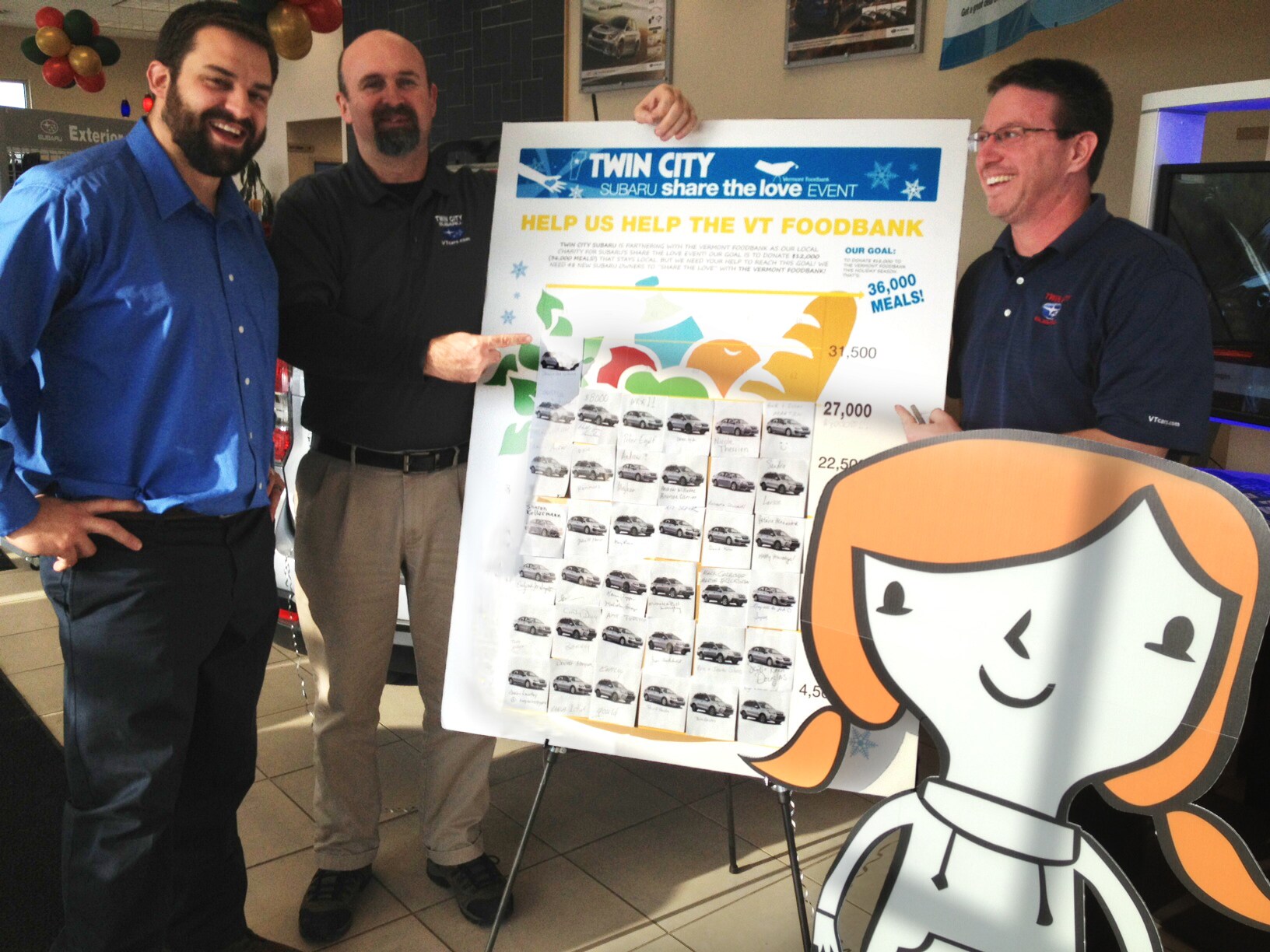 Twin City Subaru's Mike Rivet, Tony Fletcher, and
Jim Glassford
celebrate progress for the Vermont Foodbank. 11 more cars to go!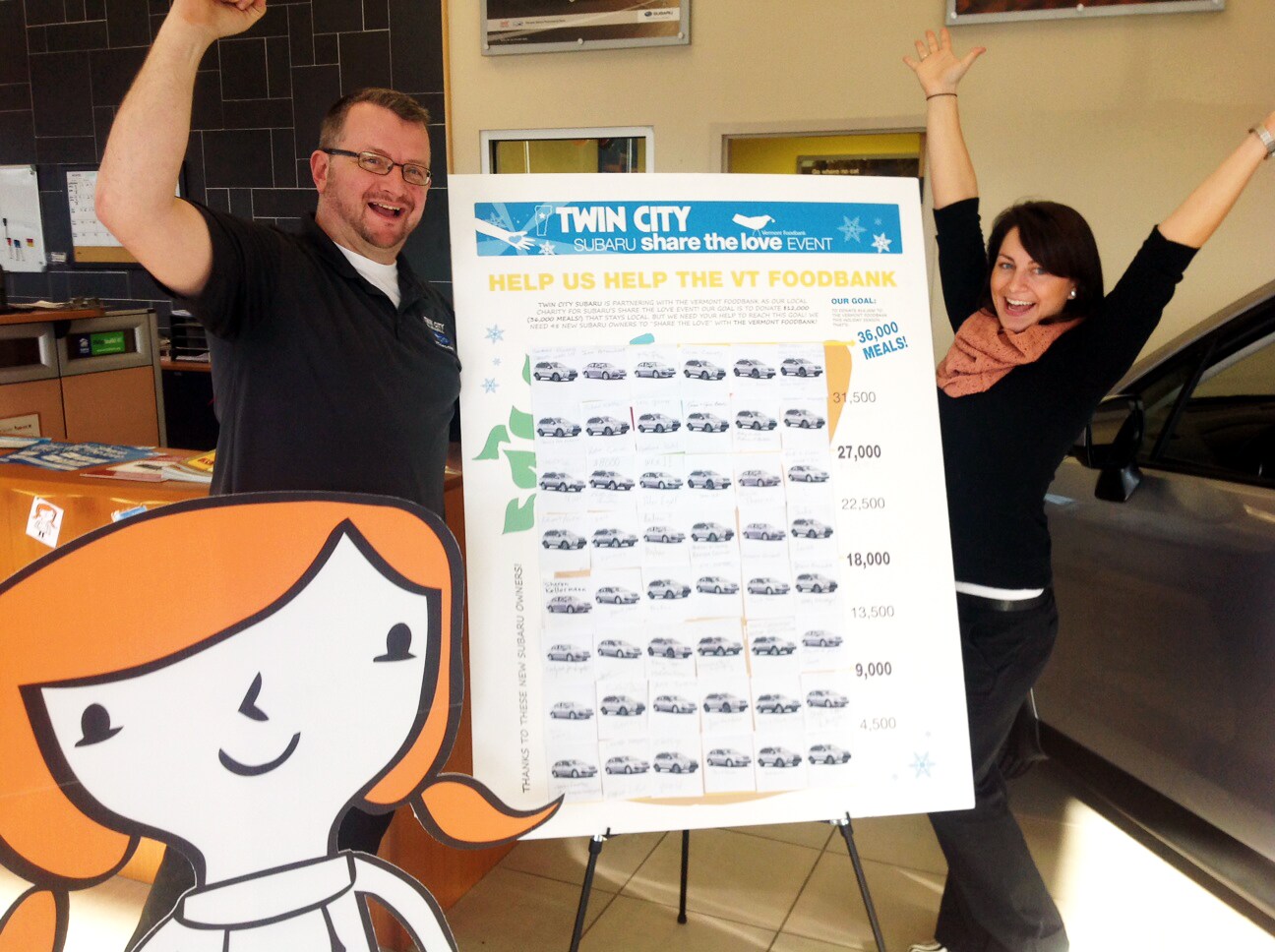 GM Chris Davis and Twin City's Ellen Wagner on Christmas Eve - the day we met our $12,000 goal!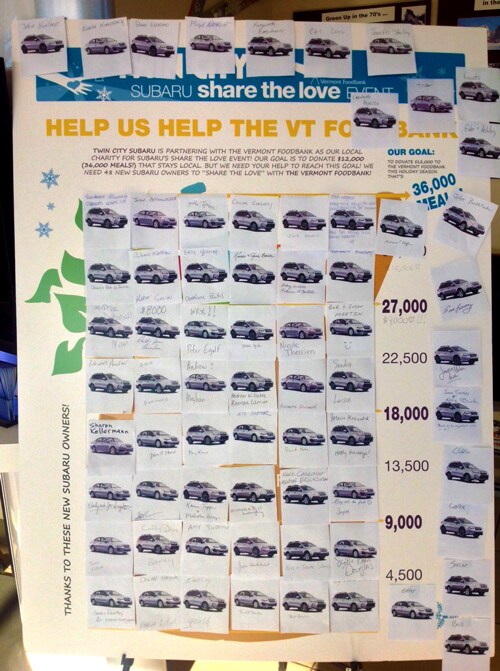 January 3, 2014: a HUGE sucess for the Foodbank, thanks to all these new Subaru owners we passed our goal by $5,000!
A big thank you to all the customers who made this happen for the Vermont Foodbank. I can't wait until December 2014 to see what we can give together next year!"

The team at Twin City Subaru all excitedly anticipate the opportunity to select another local cause for Share the Love 2014-2015. If you have a suggestion for our next Share the Love beneficiary, please share your thoughts on the
Twin City Subaru Facebook page
or email us your vote at vtsubaru@gmail.com.
Thanks again to these 70 new Subaru owners who made all of this possible for the Vermont Foodbank & the 86,000+ Vermonters they help each year!